How to get your piece $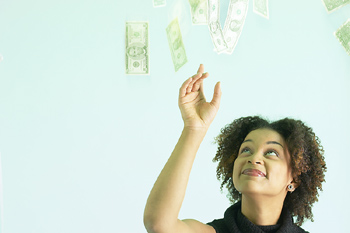 While the country is fussing and fainting at the gas pump, college-bound kids and their parents are more concerned with the rising costs of getting a higher education.
According to recent reports from the College Board, on average, annual tuition and fees at a four-year private college can hover around $20,082; tuition and fees at a four-year public college can set you back around $5,132; and tuition and fees at a two-year public college costs around $2,076.
However, the published price of a college degree is often a far cry from the actual price you must pay if you know how to find a little extra college dough, according to financial aid experts and scholarship strategists.
Here, then are a few tips to help you find funding for school:
TYPES OF FUNDING
There are four main types of financial aid: loans (low-interest, federally subsidized funds that must be repaid), scholarships, grants (merit-based financial gifts that do not have to be repaid) and work-study (federally-funded part-time jobs that assist with college expenses).
Make two very important calls before you apply for any federal financial aid. First, call the Federal Student Financial Aid Information Center (800-4FED-AID) to make certain that the institution you wish to attend is eligible to participate in federal student-aid programs, and second, call the college's financial aid office directly to ask which federal forms it prefers.
On January 1, obtain and complete the Free Application For Federal Student Aid (FAFSA), provided by the government, and the College Scholarship Service-Financial Aid profile.
WHERE TO FIND COLLEGE FUNDING
Finding funds for college isn't as difficult as it sounds, if you know where to look. Here's a quick basic treasure map suggested by financial aid experts:
* Register online for a free scholarship search at www.wiredscholar.com; www.fastweb.com and http://search.cashe.com (College Aid Sources for Higher Education) from Sallie Mae.
* Contact your state agency responsible for public elementary and secondary schools to get information on the Robert C. Byrd Honors Scholarship Program. Call 1-800-4-FED-AID for additional information.
* Contact the college financial aid administrator at your prospective college to find out what scholarship and grant programs are available.
* Contact your state higher education agency to get information about state aid, including aid from the State Student Incentive Grant (SSIG) Program, which is jointly funded by individual states and the U.S. Department of Education.
* Volunteer--the AmeriCorps' NCCC (National Civilian Community Corps) allows you to travel the U.S. full-time, while making a difference in people's lives by building affordable housing to provide disaster relief. Upon completions of the 10-month program, you'll get nearly $5,000 to help pay for school. Visit www.americorps.org for details.
* Network in your neighborhood--friends, neighbors, community activists, sororities and fraternities, and local business people often award scholarships to community students who need funding for college.
* When applying for scholarships, don't get discouraged about not having a perfect 4.0 GPA; believe it or not, there are scholarships that you are eligible for. You've got to rework your strategy by taking a self-inventory of everything that you've got going for yourself outside of the classroom (community service, church affiliation, hobbies, sports, etc.), and apply for scholarships that reward those qualities.
Once you take this approach, you're more likely to find money in some of the most unusual places. Here are just a few examples:
Psychics. Are you a budding psychic? If so, the Eileen J. Garrett Scholarship for parapsychology has a $3,000 scholarship offer for you. Visit www.parapsychology.org.
Golfers. Each year the National Minority Junior Golf Scholarship Association awards one-time grants of $1,000. Visit www.nmjgsa.org.
Female coaches. More Sisters are needed in the locker room. The NCAA sponsors the Ethnic Minority and Women's Internship Grant Program to encourage diversity among the NCAA membership's athletics personnel. Funding will cover the intern's salary and travel expenses for NCAA events. Visit www.ncaa.org for details.
Future filmmakers. This year, the Academy of Motion Picture Arts and Sciences' Academy Foundation Institutional Grants Program has awarded $500,000 to 47 universities, colleges and cultural organizations throughout the United States and in two foreign countries. Visit www.oscars.org for more details.
Special needs scholarships. The Courage Center is a not-for-profit rehabilitation and resource center for people with physical disabilities, brain injuries, speech or vision impairments, and/or hearing loss. The Center is offering two major scholarships this year: the Scholarship for People with Disabilities, funded by Melvin and Sally Mooty, which assists students with a sensory impairment or physical disability who want to pursue educational goals or gain technical expertise beyond high school; and the Empower Scholarship Award funded by the David M. Hersey Endowment Fund. Visit www.courage.org or call 763-520-0214 for details.
Government folks. The Government Finance Officers Association offers the Minorities in Government Finance Scholarship of $5,000 to minority students embarking on careers in state and local government finance. Contact the GFOA scholarship committee at 312-977-9700.
Professional bowlers. If you've got at least a 2.5 GPA and enjoy bowling, you can apply for the Al Thompson Junior Bowler Scholarship. You should send a letter to the Professional Bowlers Association Education Fund, Young American Bowling Alliance, 5301 S. 76th Street, Greendale, Wisconsin, 53129. You could score a $1,500 scholarship.
First generation college kids. Do you have the distinction of being the first in your family to attend college? If so, there are two major national scholarships out there that are earmarked just for you.
The Coca-Cola First Generation Scholarship Program offers scholarships at 382 colleges and universities across 31 states. Visit www.cocacola.com for details. And the Drive Your Future: Mercedes-Benz USA Scholarship Program grants onetime $2,000 scholarships to 500 students who are the first in their families to pursue a college education. Visit www.mbusa.com/drivefuture for details.
Winning a scholarship is not guaranteed, but you can get ahead in the race if you apply properly and often. (TIP: If some organization "guarantees" money for college, "in exchange for a small fee," it's likely to be a scam and you should report it to the National Fraud Information Center at 1-800-876-7060!)
You should complete the application in full, follow directions fully, and have your application proofread by a professional before mailing it.
You may soon discover that researching and applying for scholarships is a full-time job, but with hard work and steady determination--and perhaps a kiss from Lady Luck--you too can finance your college education and get one step closer to achieving your professional goals.